Two of my yōkai poems pop up in Issue 18 of Gramarye, the journal of the University of Chichester's Centre for Fairy Tales, Fantasy & Speculative Fiction.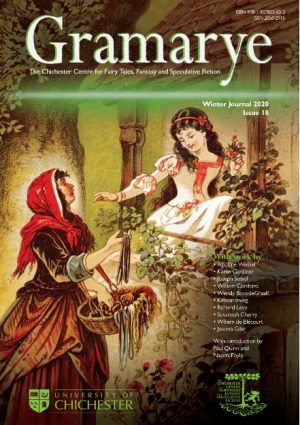 I want to praise the journal on several counts:
1) I really appreciate that they blend academic articles with poetry, fiction and illustration. Given the subject matter, this works really well, but it's quite a rare thing. Not being a professional researcher, I've never been published in a peer-reviewed journal before, and I'm grateful for the chance to smuggle poetry into an academic setting.
2) It's gorgeous. A beautifully-produced, colour-illustrated celebration of the imagination, Gramarye is a truly lovely thing. Anyone who's read the Fairy Books would appreciate the artwork the team have commissioned. Additionally, the work is responsive without being over-literal, as can happen with poetry, so the two forms complement each other without tussling.
3) Having my poetry appraised and edited by more than one reviewer was a rare and valuable experience. The reviewers were thorough and open-minded; they met the poems halfway, but also suggested subtle, insightful changes that helped enormously. I really appreciate the time they took to go through, understand and improve these pieces.
Thank you to Gramarye for including my work – I can't wait to read the next issue.
Gramarye homepage
Chichester Centre for Fairy Tales, Fantasy and Speculative Fiction
Follow the Centre on Twitter